S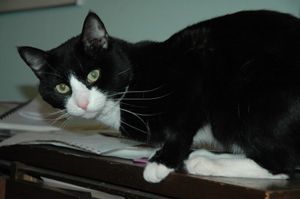 tHISSSeymour is a dedicated, hard working individual. He believes in helping people and this photo proves it. He is on top of his cabinet and has decided to run for the office of President of the United States. Again.. He can do no worse than the Trump administration is doing. Seymour is one crafty cat. He can fix the economy and most of the problems in this country. Seymour's running mate for 2020 is going to be the human publisher of this site. See in this world, "IF YOU WANT TO RUN WITH THE BIG DOGS, YOU'VE GOT TO VOTE FOR A CAT "TM Seymour will bring change to Washington. Both the kind you have in your pocket and the kind you notice throughout the world. Seymour promises he will not recycle people from past administrations. He will not put in billionaire idiots who have no clue how the real world works His cabinet will be all new , however, they bring with them a wealth of knowledge. Seymour said he will have a priority in helping first responders. It5's not enough the 9/11 Victims Compensation Act was signed. A broken rumba knows enough to sign that bill. Seymour will sign the Fire Police Fairness Act that got passed in the senate. That is a priority . Trump talks about first responders, Seymour actually pledges to sign that legislation. Seymour is very much interested in the environment and has extensive experience in the emergency services.
Seymour will take climate change seriously and has the education to understand it. He is not intimidated by science, he embraces it. Seymour treats Americans with respect. That is why he will raise the minimum wage to $15.00/hr. Seymour knows that claims of raising it will lead to job loss is drivel put forth by lobbyists to advance their platform. It actually will not happen. Look through this site to learn more. Seymour's policy will be driven by common sense. Seymour will ban all trophy hunting and will fund NASA. Seymour will colonize Mars with violent criminals. Get them out of the area and off the planet.
Currently, Seymour's campaign stops are limited to the front and rear windows where he can be seen and heard . However, plans are underway for Seymour to travel across the country to win this office. Seymour is currently interviewing other potential cabinet members for this journey to the White House.
Seymour believes in honest , hard work and is against corruption. Seymour will however, take campaign contributions from any fat cat that wants to give. You do not have to be fat or even a cat to contribute to his campaign. He will be happy to take your campaign donations. His rallies feature strobe lights, loud music and explosions. VIP packages are available to meet Seymour. While Selfies With Seymour are $50.00 , Seymour offers multiple opportunities to contribute.
Seymour knows the road to the White House will be expensive and burdensome. If you would like to contribute, you can send your donation to :Seymour for President, 1026 Burnley Ct. Bensalem Pa. 19020. For $20.00 you get a Seymour for President Tee shirt. $35.00 gets a sweatshirt. $45.00 gets you a hoodie..
Seymour will travel to have lunch or dinner with fat cats and other friends in the near future. The donations are $500.00 a plate, you get your photo taken with Seymour. For $1000.00 Seymour will sit at your table for five minutes to hear your views. A table can be purchased for $10,000. $250.0000 gets you 90 minutes with Seymour to share your views on Americas future with him. We will be entertaining suggestions for luncheons for Seymour in the future. To correspond with the campaign office or to help volunteer for Seymour,
Seemoorecats@aol.com
.
Check back soon and send your check for your official Seymour merchandise today!. The road to the White House is now, for a better tomorrow!!!
Click here to go back to Seymourcats.com